HotForex: Wir reichen rund um die Welt unsere helfende Hand
HotForex verfügt über ein tief verwurzeltes Verständnis der sozialen Verantwortung, die wir denen schuldig sind, die es im Leben schlechter getroffen haben als wir. Wir reichen daher bei vielen sich bietenden Gelegenheiten unsere helfende Hand, falls wir den Zweck für gut und richtig erachten. Die Unterstützung von örtlichen Gemeinden durch gemeinnützige Spenden oder soziale Organisationen und Initiativen stellt nur einen Teil der Arbeit dar, die vom Management und den Mitarbeitern von HotForex getan wird.
Einige Beispiele unseres Engagements finden Sie untenstehend
Sophia Foundation for Children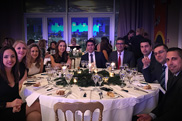 In line with its commitment to social responsibility and supporting charitable causes, HotForex donated a significant amount to the Sophia Foundation for Children during a fundraising event and gala dinner held at the Presidential Palace in Nicosia. HotForex's management team was there to hand the donation to representatives of the Foundation.
The Foundation was established in 2008 by Cypriot volunteers and aims to contribute to the fight against poverty. It has focused on improving the nutrition, education, and medical care of children in Kenya. The Sophia Foundation also uses sponsorship money to support its work running the Makarios Children's Home for orphans, which helps to break the cycle of poverty amongst some of the poorest children.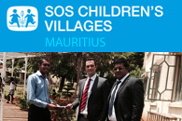 Founded in 1949, SOS Children's Villages is an independent, non-governmental development organization with a commitment to helping children in need. With a vision that "every child belongs to a family and grows with love, respect and security," the organization provides long-term care, education and health services for vulnerable children in 133 countries, including Mauritius.
As HotForex continues its commitment to contributing to worthy causes that impact local communities, a charitable contribution will be made to the Mauritius branch of the SOS Children's Villages, given that HotForex maintains a strong presence in Mauritius. HotForex believes that this charitable donation will help this extraordinary initiative to continue and support the children of need of Mauritius.
The Rotary Club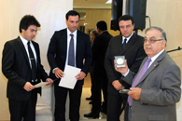 An mehr als 34.000 Standorten in aller Welt arbeiten die sage und schreibe 1,2 Millionen Mitglieder unablässig daran, den Hunger zu bekämpfen, sauberes Trinkwasser zu liefern, Polio auszurotten, die Gesundheit der Leute und die sanitären Bedingungen zu verbessern, und sie unterstützen sogar die Schulen und Ausbildungsprojekte. Die Entscheidung, an eine solch tatkräftige Organisation zu spenden, fiel HotForex daher leicht. Damit wird u. a. unterprivilegierten Leuten in der örtlichen Gemeinde von Larnaca auf Zypern geholfen, wo sich das Hauptquartier von HotForex Europe befindet.
Zu Ehren unserer großzügigen Spende wurde ein Festakt veranstaltet, an dem auch der zypriotische Minister für Kommunikation und Arbeit, Herr Tasos Mitsopoulos, teilnahm..
Red Cross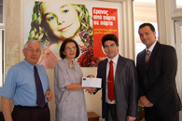 The world-renowned charity Red Cross was greeted with a donation on behalf of HotForex. This charitable contribution is based solely on the extraordinary effort and consistency shown by the charity to improve all aspects of human life.
With approximately 97 million volunteers and staff members worldwide, the Red Cross delivers exceptional life-saving support which HotForex can now with pride officially announce are financially conscious of. HotForex and the Red Cross will endeavor to work together and form a strong mutual relationship, thus building an even stronger corporate social responsibility program surrounding HotForex.
UNICEF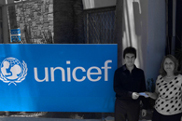 HotForex continues to reinforce the work done by leading international charitable organizations with its latest donation to UNICEF.
UNICEF is known all over the world for their work in the areas of:
Child survival and development
Basic education and gender equality
Children and HIV/AIDS
Child protection
The entire HotForex team unanimously believe that this was a worthy organization to which to lend our financial support.
Forex Handeln und CFDs hat ein großes Risiko
HotForex Latest Analysis
Loading latest analysis...