Quadro Regulamentar
A HF Markets Ltd, que faz negócios sob o nome "Hot Forex", tem uma Licença de Negócio Global de Categoria 1 emitida pela Comissão de Serviços Financeiros (FCS) da República da Ilha Maurícia sob o nome de HF Markets Ltd
Empresa No.: 094286/GBL; Licença Categoria 1 Negócio Global № C110008214 License.
"HF Markets Ltd" que faz negócios como "HotForex.com" é um contribuinte fiscal na Ilha Maurícia, taxa de matrícula № 27009163, with their registered address at Ebene House, 3rd floor, 33 Cybercity, Ebene, Mauritius.
A "HF Markets Ltd" tem o direito de gerir ativos financeiros, realizar uma atividade de corretagem, fazer negócios e realizar transações em divisas, stocks e mercados de futuros. A atividade da Empresa satisfaz completamente os requisites da legislação e é controlada pelas seguintes leis::
Lei relativa à Emissão de Títulos, de 2005; e
Regulamentação da Emissão de Títulos (Autorização), de 2007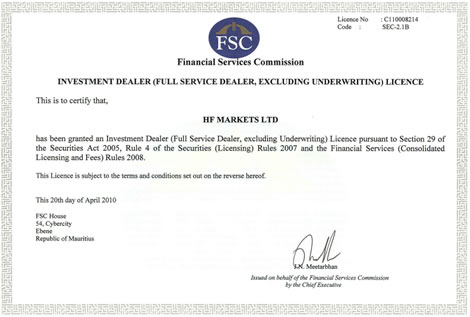 ---
HF Markets Ltd. (HotForex) is a proud member of Bourse Africa, the first multi asset class exchange in Mauritius.
BOURSE AFRICA LIMITED (Bourse Africa), is the first international multi-asset class exchange from Mauritius that currently offers trading on three market segments, commodities, currencies and equities. Bourse Africa endeavors to provide African and International market participants with an efficient market for risk management, trading, investing and capital raising needs. The exchange offers a state-of-the-art electronic trading platform with efficient clearing and settlement systems.
Regulated by the Financial Services Commission in Mauritius (FSC), Bourse Africa is promoted by the Financial Technologies Group, a global leader in setting up and operating tech-centric next generation exchanges in emerging but fast growing economies. These exchanges are complemented by the Group's Ecosystem ventures which address opportunities around exchanges in the areas of clearing, depository, information vending and payment gateway services.
Bourse Africa was formerly known as Global Board of Trade (GBOT) Ltd. Bourse Africa symbolizes the larger focus of Financial Technologies Group towards Africa and the opportunities offered by the African Financial and Commodities Markets.

---
Official HF Markets Ltd. (HotForex.com) Financial Audit
HotForex attains the belief that clients and partner institutions deserve the safest financial platform when investing, something which the current financial industry has been lacking in recent times. HF Markets Ltd. is proud to announce that we have been audited by 'Lancasters Chartered Accountants'.
Clique aqui para saber mais to view the official audit confirmation from our 2010 - 2011
The importance of a brokerage undergoing an audit
The importance of choosing an audited broker can not be emphases enough. Being an audited broker ensures that fair business polices are in use to protect your investment from any corruption or fraud. HotForex believes it should be a mandatory requirement for all brokerages to be audited within the Forex industry so that as clients you are guaranteed your investment is safe.
The role of an auditor in the Forex Industry is to:
Detect Revenue leakages wherever any credit facilities are extended.
Ensure that regulatory provisions are complied with
Ensure compliance of bank specifications policies and guidelines.
Prevent the occurrence of fraud.
HotForex will go through all optional requirements to show our clients that we are dedicated to making sure their money is secure.
Abra uma conta
Risk Warning: Trading Forex and CFDs is risky